18-inch connectors
Multi-Flow connectors allow for extensive flexibility in drainage system design.
Multi-purpose connectors
All multi-purpose connectors, most commonly the 18009 and the 1800M, can be used in a variety of combinations using standard 3-inch PVC or ABS fittings:
They can be used as bottom outlets.
An inspection port can be added to the top, allowing visual monitoring of the water flow.
A riser can be installed between a deeper transport pipe and this fitting.
They can be joined together allowing for multiple lifts of Multi-Flow in a single trench.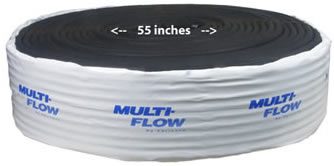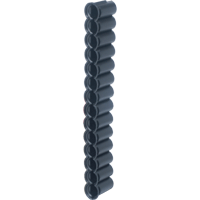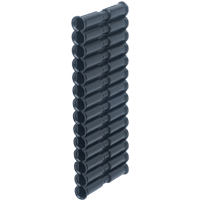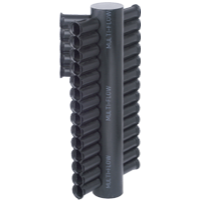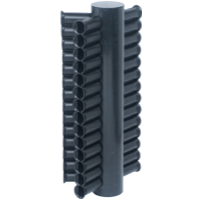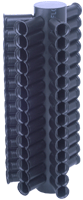 Part #18006 18″
18″ Double Wye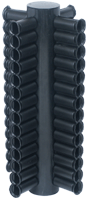 Part #18008 18″
18" Cross

Part #18009 18″
18" Coupler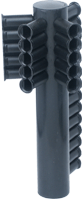 Part #1800A 18″
18" to 6″ with 6″ Double Wye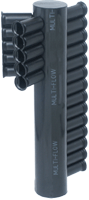 Part #1800C 18″
18" to 6″ with 6″ Wye(Right)
Part #1800D 18″
18" to 6″ Coupler

Part #1800E 18″
18" to 12″ with 12″ Wye(Left)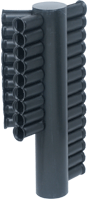 Part #1800F 18″
18" to 12″ with 12″ Wye(Right)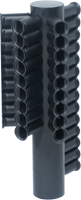 Part #1800G 18″
18″ to 12″ with 12″ Double Wye

Part #1800H 18″
18″ to 12″ Coupler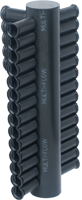 Part #1800I 18″
18" to 18″ with 6″ Tee

Part #1800J 18″
18" to 18″ with 12″ Tee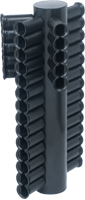 Part #1800K 18″
18" to 18″ with 6″ Double Wye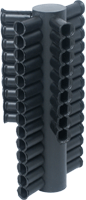 Part #1800L 18″
18" to 18″ with 12″ Double Wye

Part #1800M 18″
18″ Single-Sided Coupler

Part #1800N 18″
18″ 90 Degree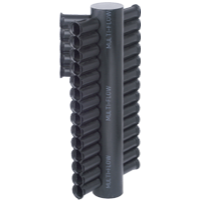 Part #1800P 18″
18" to 18″ with 6″ Wye(Left)