Introduction
Multi-Flow drainage systems serve exceptionally well in a wide variety of civil projects. It is used beneficially in landfill sites, mine and leach pile settings, desaturation projects, rail lines, railroad yards, storage lagoons, earthen dams, and in decontamination processes.
Multi-Flow provides a very efficient means for removing excess water from saturated soils. Whether the goal is to collect contaminated water in order to protect the ground water or surrounding streams or if it is to collect scarce water for use in recreation or irrigation, Multi-Flow offers unique advantages. Multi-Flow is well suited for these applications due to its compressive strength and resistance to almost all known chemicals and corrosives.
In some instances, Multi-Flow is utilized to vent gases such as those that might accumulate under a pond liner causing whale backing. More frequently, another Varicore product, Hazvent is used for that purpose.
Reasons for using Multi-Flow in a civil drainage project
Whether it is for new construction or addressing an existing problem, Multi-Flow is a wise choice because of it's:
effectiveness
convenience
durability
affordability
1. Effectiveness – Civil drainage systems must be able to collect water and transport water. Multi-Flow excels in both regards:
Water collection – Water can enter a Multi-Flow drain more readily because Multi-Flow has greater surface area than traditional round pipe. The more drainage product that there is in contact with surrounding saturated soil, the more quickly drainage can take place. 12-inch Multi-Flow has twice the surface area, and consequently twice the effectiveness, of a 4-inch round pipe.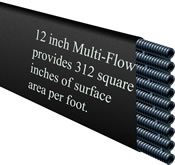 Water transport – Once water has entered Multi-Flow flow channels, it moves away from the saturated area quickly because the channels are round and unobstructed, unlike those in other panel shaped drains.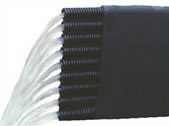 Shape – Because of its panel shape, Multi-Flow can be inserted vertically. This means that a trench can be dug with a chain trencher, a rockwheel, or in some cases a narrow bucket. The result is less excavated material to haul away, less backfill to haul in, less time spent, and of course, less expense.
When it is installed horizontally, trenching can be eliminated altogether and the low profile keeps the drainage line out of reach of maintenance equipment.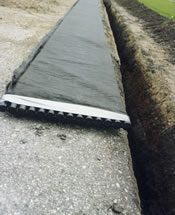 Connectors – Not only are Multi-Flow connectors easy to use, there are a lot of them. Any configuration that is appropriate for a given site can be carried out using one or more of the 60 Multi-Flow connectors.
Flexibility – Multi-Flow is easily bent making it convenient to work with, suitable for making tight turns, and easily joined to connectors.
Strength – Multi-Flow is designed to withstand heavy loads. Able to withstand loads well in excess of 6,000 psf, Multi-Flow is not going to collapse due to heavy surface loads in shallow installations or due to earth weight in deep installations.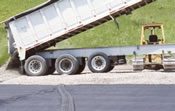 Longevity – The Multi-Flow system includes a heavy effective geotextile filter. This high quality fabric acts as an excellent secondary filter, keeping Multi-Flow's flow channels clean and open. Clean coarse sand acts as a very effective primary filter. Due to its shape, Multi-Flow is easily encased in sand, assuring a long life. When placed in a 4 inch wide trench or laid horizontally and covered with a band of sand, Multi-Flow is readily protected in this way.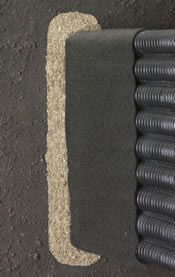 Half as much as a comparable French drain system. Add to that its longer life and Multi-Flow begins to look very attractive!
Comparing vertical and horizontal installations
If a trench is needed, vertical is the orientation of choice. A 4 inch wide trench is ideal.
Multi-Flow can be installed horizontally where construction requires the top soil to be stripped away. In these cases, Multi-Flow is rolled out horizontally and the time and cost of trenching can be by-passed. Examples of this profile might be in landfill sites or under leach piles.